Getting A Chesterfield Is A Milestone By Any Measure
The Chesterfield sofa, an esteemed classic that once adorned the grandest palaces, hotels, and gentlemen's clubs, has been meticulously recreated for the modern era.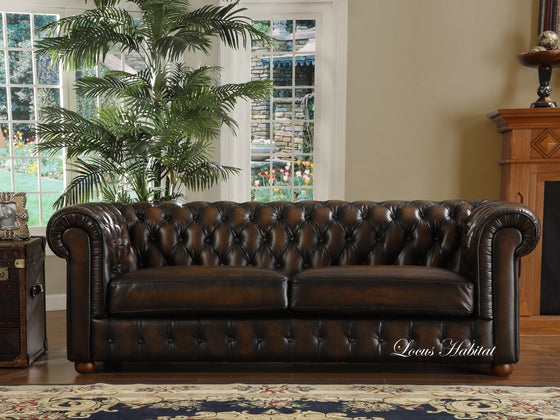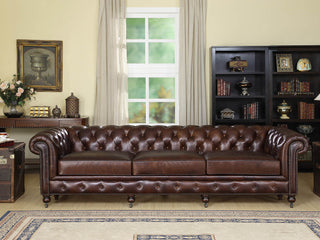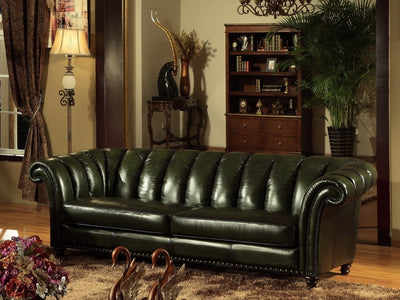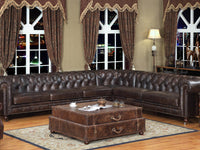 Original Tanned Leather
Discover The Perfect Luxury Chesterfield Sofa For Your Home With Locus Habitat
If you're searching for the perfect Chesterfield sofa to elevate your home, look no further than Locus Habitat. Our collection offers unparalleled quality, comfort, and style, all while being eco-friendly and sustainable.
Visit our Store Today
Chesterfield Sofa Singapore
Unmatched Comfort And Style
We understand that comfort is as important as style when choosing the perfect sofa for your living space. That's why we offer a range of Chesterfield sofas in Singapore that provide unmatched comfort and style.
Luxurious Living
Every home deserves a touch of luxury. We offer a range of Chesterfield sofas in Singapore that embodies luxurious style and sophistication.
Sustainable And Stylish
Sustainable living doesn't mean sacrificing style, which is why we're committed to offering chic and timeless furniture. With Locus Habitat's Chesterfield sofas in Singapore, you can have a stylish and sustainable living space that you can be proud of.
Handcrafted Quality
We pride ourselves on offering handcrafted quality in all our Chesterfield sofas in Singapore. Our skilled artisans pay attention to details in the production process, from selecting the finest materials to crafting each piece by hand.
Locus Habitat's Premium Chesterfield Sofas: Handcrafted Luxury for Your Home
Welcome to Locus Habitat, where sustainability and modern luxury blend seamlessly. We aim to provide beautiful, functional homes that respect the environment and promote healthy living.
We believe that furniture is not just about function. It is also about style and making a statement. That's why we're proud to offer our stunning collection of Chesterfield sofas. Our sofas are crafted with precision and care, using only the highest quality materials to guarantee they are comfortable. Our Chesterfield sofas will add a touch of elegance to any home decor. 
Apart from our Chesterfield sofas, we offer different options, including 2-seater leather sofas crafted with high-quality materials and attention to detail.
Thank you for considering Locus Habitat for your sustainable living needs. Our Chesterfield sofas are the perfect piece for any living space, and we are committed to providing you with the highest quality and most sustainable options available. 
Frequently Asked Questions
A Chesterfield sofa is a classic sofa characterized by its deep button-tufted upholstery, rolled arms, and low backrest. The design dated back to the 18th century and was traditionally found in high-end establishments like palaces, hotels, and gentlemen's clubs.
Our rendition features the signature deep-buttoned detailing that is the hallmark of the Chesterfield design, flawlessly rendered by our expert artisans using traditional construction techniques. Each stud is meticulously hand-nailed, and each button is hand-tufted to ensure unparalleled detail and refinement. Our rich hand-finished leathers are carefully selected for their exceptional quality and comfort, enveloping you in a warm, sumptuous embrace that epitomizes luxury. The Chesterfield sofa is the quintessential centerpiece of any sophisticated interior, evoking a timeless sense of elegance and refinement that will impress even the most discerning guests.
Chesterfield sofas can be made from various materials, including leather, velvet, linen, and cotton. The most common and traditional choice is leather, which gives the sofa a luxurious and elegant appearance.
Yes, the Chesterfield sofa is still in style and considered a timeless furniture design classic. The Chesterfield sofa's signature tufted design, elegant curves, and timeless appeal make it a prevalent choice for those who want to add luxury and sophistication to their living space. Additionally, designers are constantly updating the Chesterfield sofa with new materials, colors, and finishes to keep it fresh and modern while maintaining its classic appeal.
Caring for your Chesterfield sofa is essential to ensure its longevity and maintain its beautiful appearance. Here are the tips on how to care for your Chesterfield sofa:
1. Clean your sofa regularly: Use a soft, dry cloth or brush to clean your sofa and remove any dust or debris. You can also use a vacuum cleaner with a soft brush attachment to remove loose debris.
2. Avoid direct sunlight and heat: Exposing your Chesterfield sofa to direct sunlight or heat can cause the leather to fade or crack. It's best to keep your sofa away from windows or heat sources.
3. Use a leather conditioner: Leather conditioner can help keep your sofa soft and supple and prevent it from drying out and cracking. Apply conditioner to a soft cloth and rub gently into the leather, following the manufacturer's instructions.
4. Clean up spills and stains immediately: If you spill something on your sofa, it's important to clean it up immediately to avoid permanent damage. Use a clean, damp cloth to blot up the spill, then dry the area with a soft, dry cloth.
5. Avoid harsh chemicals: Harsh chemicals such as bleach, ammonia or household cleaners can damage the leather of your Chesterfield sofa. Stick to using a damp cloth and mild soap for cleaning.
By following these tips, you can keep your luxury Chesterfield sofa looking great for years to come.